Garda Divisional Headquarter Dublin
This major glass artwork spreads over the first and second floor of the main entrance area of the New Garda Divisional Headquarter in Dublin, Rep. of Ireland. The building is open to the public since August 2018.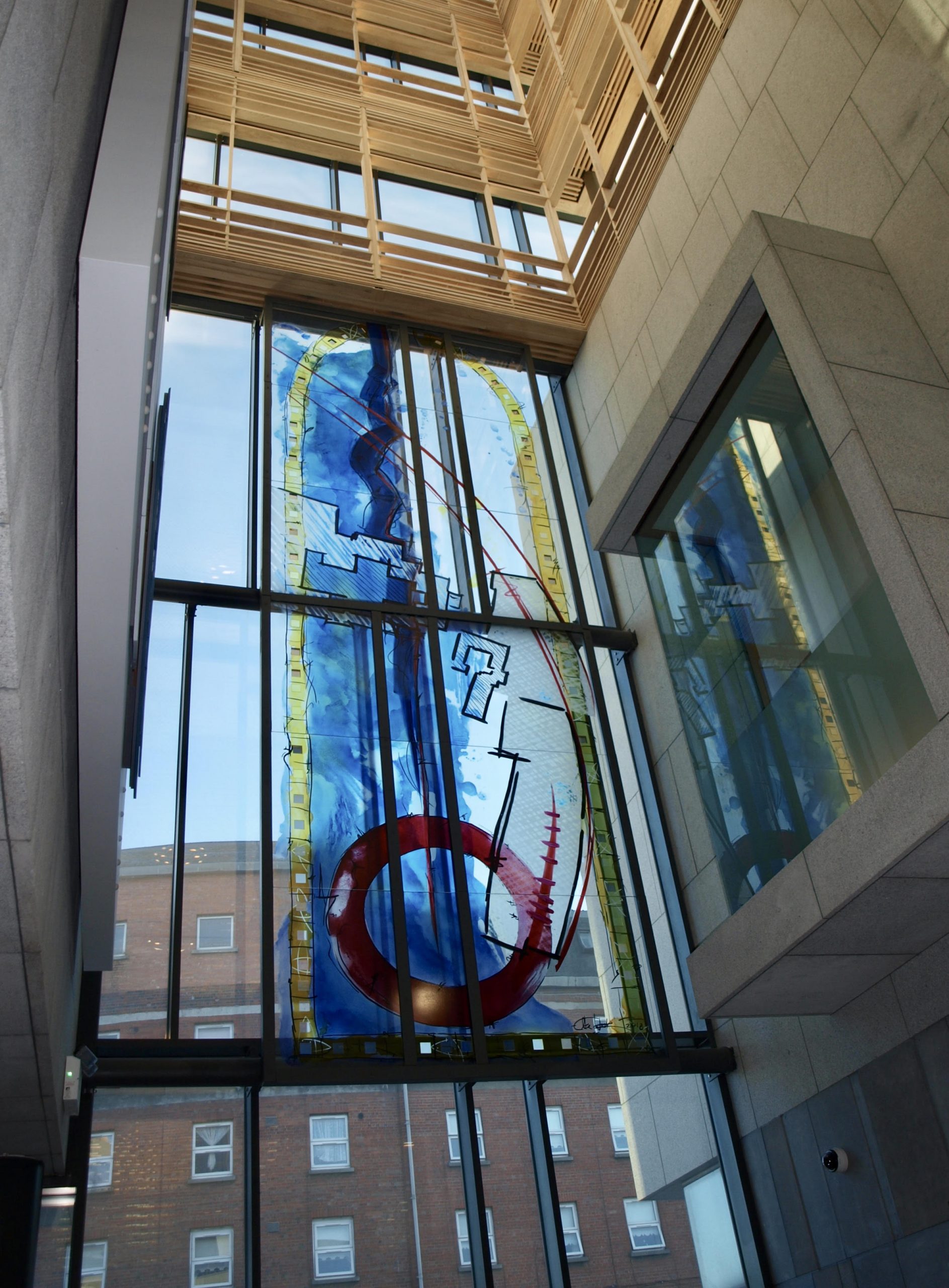 Renal Unit, Ulster Hospital
Belfast, Northern Ireland
The integration of hand-painted and acid-treated glass into double-glazed units, together with the use of optical lighting film, provides a friendly and uplifting, welcoming atmosphere in this waiting area 9 units, each 1.50 x 1.50 m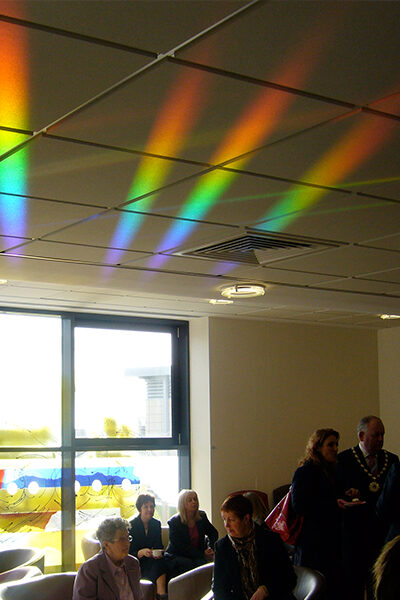 State Laboratory of Ireland
Celbridge, Kildare, Rep. of Ireland
The various areas of the analytical, chemical and advisory work of the State Laboratory are the main inspiration for this work. A grid made up of black lines, round lenses and rings, overlaps the main form and – together with 'light transformers' – plays with the surrounding architectural features, thereby integrating the artwork perfectly into the innovative architecture.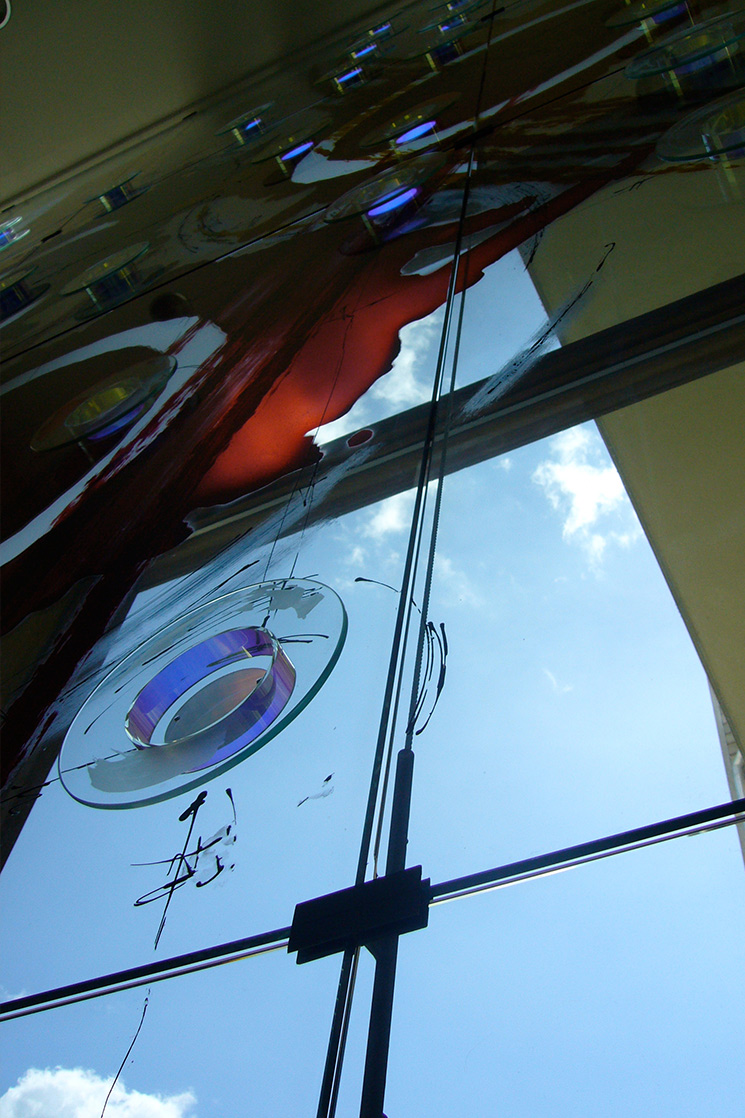 5 long glass columns are symbolizing books on their shelves. A colourful integration into the children's section of this library. Small details, like hearts, letters etc. become visible, the longer you look. Each piece approx. 3.70 x 0.5 m, laminated safety glass with integrated dichroitic sections and optical lighting film.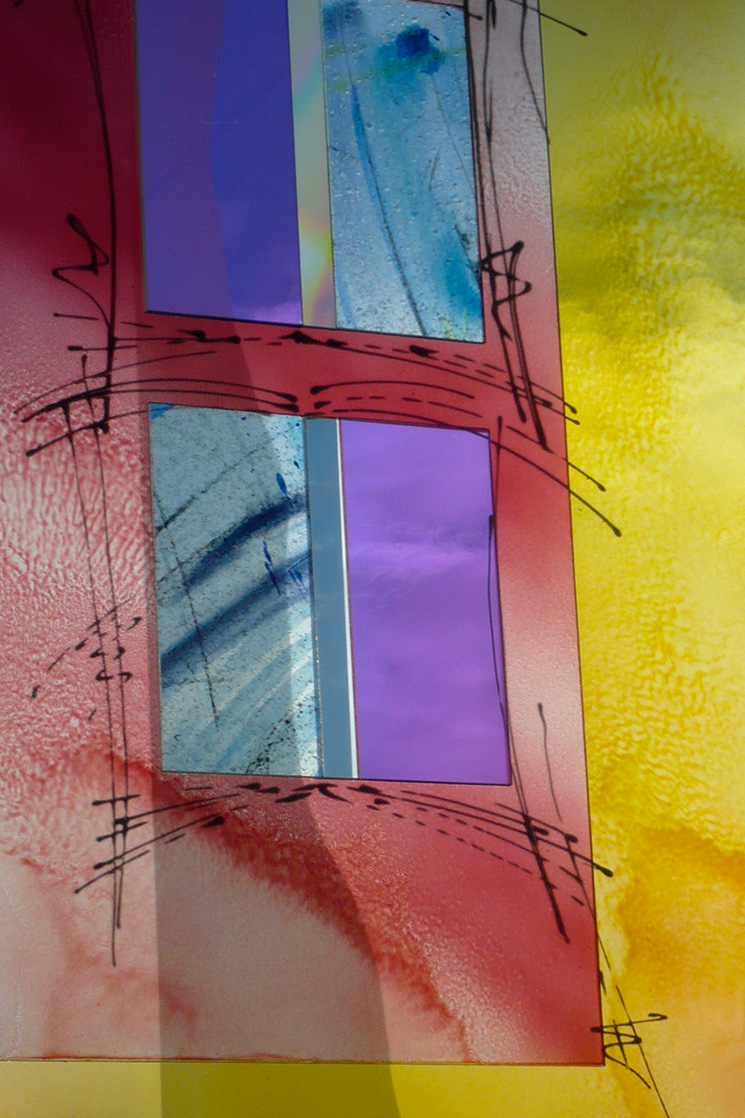 Irishtown Garda (Police) Station
The position of the building, The position of the building, close to the sea and overlooking the Wicklow Mountains, is the main inspiration for the artwork. The blue form emerges over parts of the glazed area, integrating Celtic, sandblasted knot designs, winding from the bottom to the top of the windows, constantly changing due to integrated optical films – an interaction of sun, day- and nightlights.
A colourful but subtle intervention into the architecture of the building.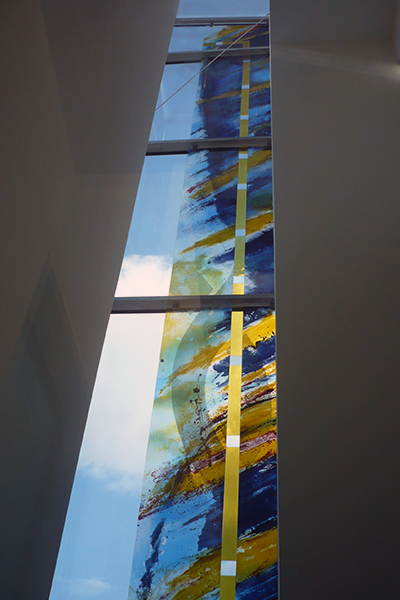 Letterkenny, Donegal, Rep. of Ireland
A blue form sits like a big ink 'blob' on the main windowfront of the entrance area, symbolizing with its coloured areas the different departments of the Institute. Constantly changing optical lighting film, reflecting rainbows into the building, optically integrate the outside into the inside of the building. The transparency of the glass, even in the painted areas, underline this.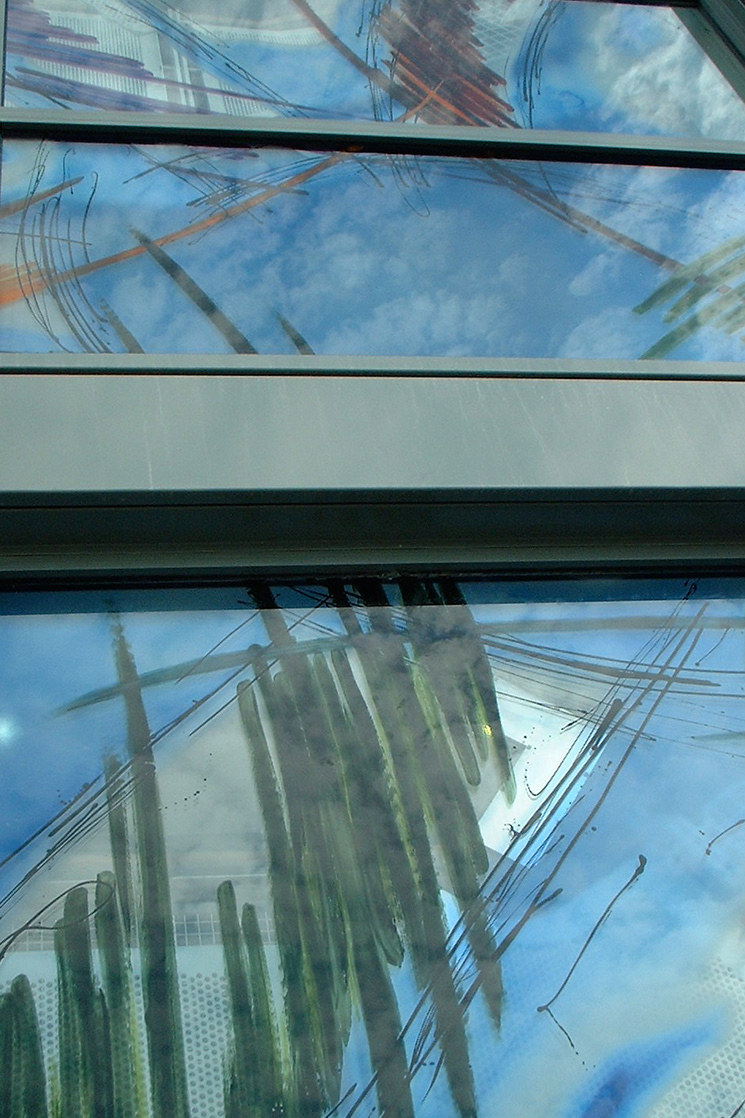 The name of the local area 'the Seven Springs' is taken as the main inspiration for this work. Painted forms, lenses, dichroitic glass rings and freely sandblasted parts are building up an interesting, constantly changing image. 
The cable installation system is integrating the artwork from inside into the existing glass cubicle, ca. 15 m x 8 m, in sections.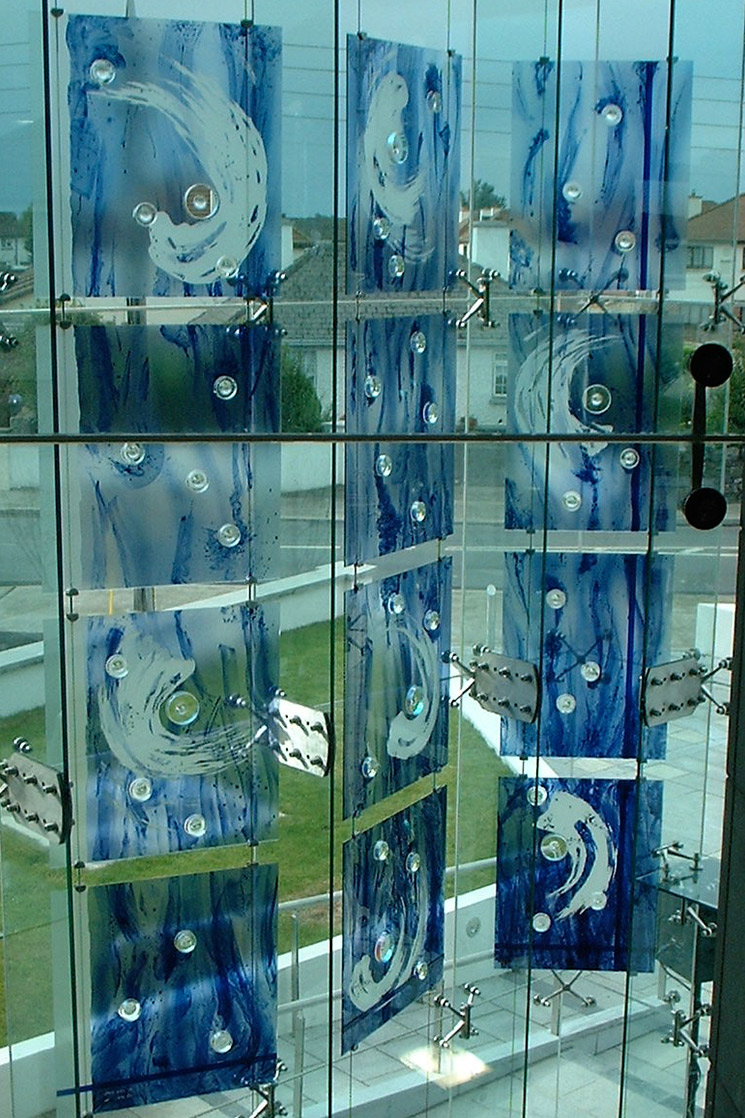 Department of Education & Science
Autonomous glass pictures and a 'glass-wave-installation' guide visitors and staff through the long corridor of the building without blocking the view to the outside, but enhancing it.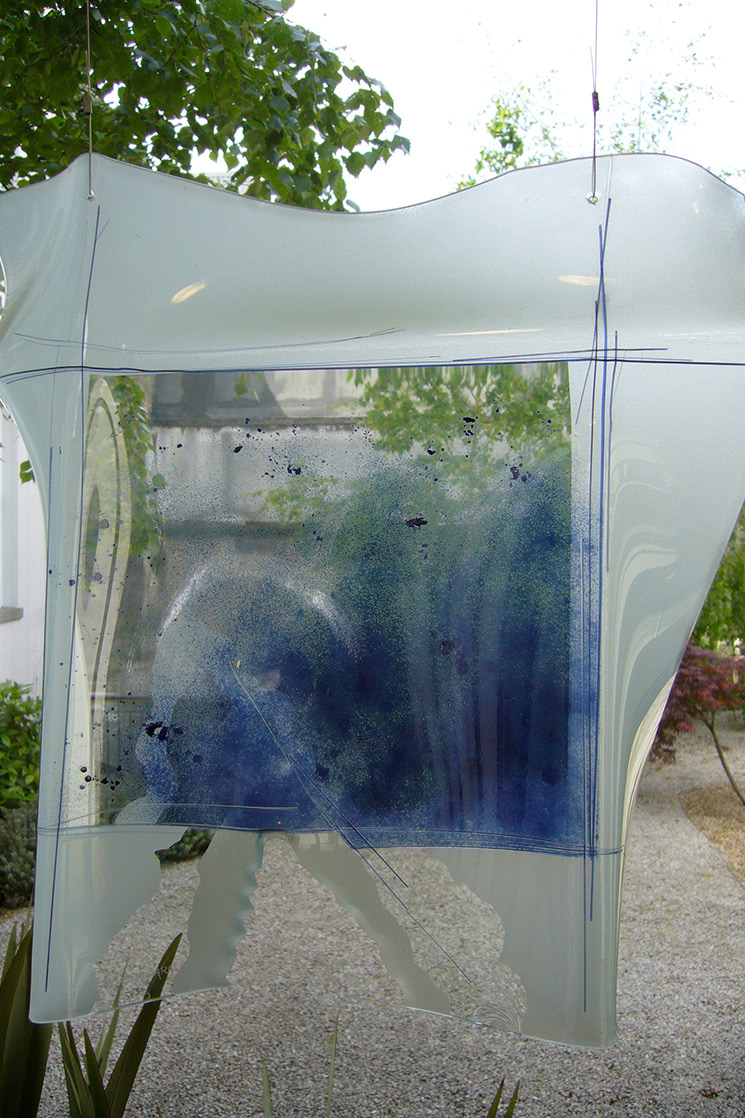 Water supply company Hildesheim, Germany
Free painted "waves" emerging over parts of the glass entrance, "flowing" over into an illuminated neon-glass installation in the floor – water made visible from the source to the sea! – enjoy