Elke Westen's main focus is on glass design, cutting-edge techniques and ecological sustainability. Her work plays with the manipulation of colours and reflections to bring spaces to life, 
Her public artworks as well as her paintings and bespoke jewellery reflect this philosophy.
'Studio Elke Westen' was established in 1994 and is now based in Ireland. Elke studied Product Design and holds a Master of Arts.
She lectured at universities and conferences in Germany, Ireland, the UK and Columbia.
Her work can be seen in public buildings and private and state art collections in Ireland, Germany, France, the Netherlands, Northern Ireland, Scotland, Japan, Nepal and Columbia.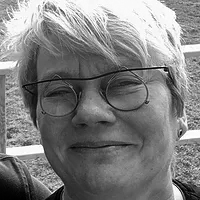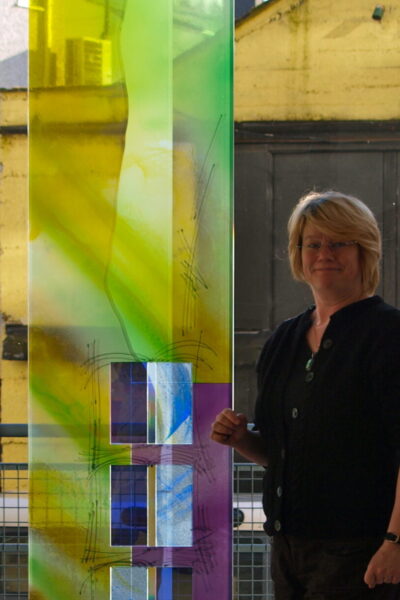 "working with glass is like painting with light"
My ideas are mainly inspired by nature: the four elements earth, fire, water and air are transformed and playfully integrated into my work. The changing light- and colour-situations of the seasons, in all their subtleties, as well as the element of artificial light, are integrated into my glassworks and are an essential part of my philosophy as an artist.
The Glass, which forms the substrate for the image, is transparent and stays transparent even after the artistic working process, thus making the "canvas" visible from all angles. It is my intention to unite the viewer and the artistic creation in a unique, personal and long-lasting visual experience.
To experience my glassworks it is important to view them over time, from different angles and under varying conditions, both environmental and personal. In each setting – night, day, mood, etc.– different impressions can be perceived. Light and shade play a strong role in the overall effect. As a contemporary artist, I integrate up-to-date materials and new technologies into my designs and works, to make them as environmentally friendly as possible. 
The work in a design team, together with architects, building contractors and – most important – the future users of the buildings, is essential for my working process and my signature for the perfect integration of my work into public spaces.
Elke Westen, Dipl.-Des., MA
2002
Master of Arts (MA), Glass Design, National College of Art and Design, Dublin, Ireland

1993
Degree as a designer (B.Des.) Product Design, University of Applied Science, Dortmund, Germany
1986-1988
Apprenticeship as reprographer
2020
Excellence Award Glass Design – Irish Enterprise Awards
2020
Artists Bursary, Fingal County Council, Ireland
2003
RDS Award of Excellence, Category Glass 
1994
International design Prize "FORM"
State Art Collection of Ireland 
Artesanias de Columbia

Collection of the Dalai Lama, India
Ka-Nying Shedrub Ling Monastery, Nepal
Private collections in Germany, Japan, France, Netherlands, Scotland
List of Public Art projects
2017/2018
Garda Divisional Headquarters, Kevin Street, Dublin/Rep. of Ireland
2016
Direct Commission, "Yellow", large-scale painting for a private villa, Germany.

2014/2015
Research Project "Light, Colour, Landscape", new work in progress.

2012/13
Commission, Reception, Ka-Nying Shedrub Ling Monastery, Kathmandu, Nepal

2011
Direct Commission, Office of Public Works for Dept. of Social + Family Affairs, Dublin

2009/2010
Invited Artist, glass art and design work for new Kildare Library, Kildare Town/Ireland

2008
Winner Invited Competition Irishtown Garda Station, Dublin, for Office of Public Works, glass artwork

2007
Winner Open Competition East Down Institute of Further and Higher Education, Downpatrick, Newcastle and Ballynahinch/Northern Ireland

2006/07
Winner Open Competition Altnagelvin Hospital, Derry/Northern Ireland
2006/07 
Winner Open Competition Downe Hospital, Downpatrick/Northern Ireland

2006 
Winner Open Competition Ulster Hospital, Renal Unit, Belfast

2005 
Winner Invited Competition State Laboratory of Ireland, Celbridge, Co. Kildare/Ireland, for Office of Public Works

2005 
Winner Open Competition Breast Check Unit, Dublin

2005 
Glass Sculpture Shekina Sculpture Garden, Glenmalure, Co. Wicklow/Ireland

2004 
Selected Artist (Open Competition) Integrated Arts Committee, Muckamore Abbey Mental Health Hospital, Antrim/Northern Ireland

2004 
Winner Invited Competition Carlow Credit Union, Carlow/Ireland, glass entrance

2004 
Invited Artist 'Sculpture in Context", Dublin

2003/04 
Winner Open Competition Cavan Innovation + Technology Centre, Cavan/Ireland
2003 
Direct Commission, Office of Public Works for Dept. of Social + Family Affairs, Dublin

2003, 04+05 
Direct Commission, Dept. of Education + Science, Dublin

2002/03 
Winner Open Competition Letterkenny Institute of Technology, Letterkenny/Ireland, glass entrance

2002 
State Art Collection of Ireland for Dept. of Education + Science, Dublin

2002 
Mercer Consulting Group, Dublin

1999/2000 
Direct Commission Energy Supply Company "Stadtwerke", Peine/Germany

1999
Glass entrance private house Hettenleidelheim/Germany

1997/98 
Direct Commission water Supply Company "Stadtwerke" Hildesheim/Germany

1997 
Direct Commission Colour Scheme + Guide System Multi-Storey Car Park, Saarbruecken/Germany

1995 
Direct Commission Water Supply Company "Harzwasserwerke" Hildesheim/Germany